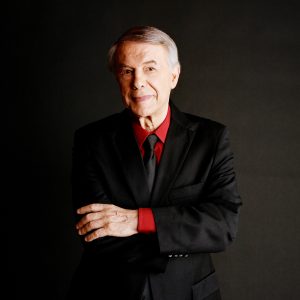 Honorary Patron
The best and most enduring talent is natural. People can acquire various skills by diligent study and practice, but are unlikely to reach the top rung of whichever ladder they seek to climb unless they possess a natural, inborn aptitude for what they want to achieve.
Salvatore Adamo is a case in point. Born in humble circumstances made worse by misfortune, he rose to stardom through natural ability and perseverance, and has been resident in the top echelon of European entertainment for three decades.
The Adamo story began in the small Sicilian market town of Comiso five minutes pas midnight on 31 October 1943. He was the first born of seven brothers and sisters, and says he can have two birthday celebrations on 31 October every year. Adamo family was poor but happy. Work was so scarce in Comiso, however, that Antonio Adamo, Salvator's father, decided to move with his wife and children to Belgium, where he found a hard, exacting job at the coalface in one of the country's mining areas.
The move enabled Salvatore to learn French as a second language, which proved a considerable advantage in his later career. Educational opportunities were strictly limited for the eldest Adamo child, but he showed another natural aptitude for learning quickly and thoroughly, and would probably have become a journalist had music not beckoned.
When he was 12 he joined the local church choir, where the quality of his singing voice became rapidly apparent. Inevitably his voice broke and his father Antonio, by then unable to work following a pit accident, devoted all his time and energy to promoting his eldest son's distinctive singing ability.
Salvatore's grandfather gave him a guitar as a present, an instrument. The youngster mastered within days without formal tuition. This in turn seemed to unlock a capacity to write memorable and meaningful songs. His first step to fame was winning a Belgian talent contest, followed by a similar triumph on a Luxembourg radio show, and then the Belgian branch of a multi-national record company signed him to a disc contract.
Queen Paola heard him on record and invited him to sing at the Belgian royal palace. Adamo expressed his thanks and appreciation for this favour by composing "Duke Paola".
Perhaps his biggest professional test confronted him o n 12 January 1965. The 22 year old was to make his French debut at the famous Paris Olympia in the knowledge that his records until then had made no impression in the French market. The Paris Olympia audience is one of the hardest and most merciless in the world, and does not hesitate to express its instant disapproval of any act it deems unworthy of the venue. But it took Adamo to its collective heart, and called for many encores. Sadness marred his life again when his father, taking his first holiday for many years back in Sicily, drowned in a tragic mishap, leaving Salvatore as the breadwinner for his mother and six brothers and sisters. But the Olympia triumph, followed by international tours, put the seal of success on his career, and today Adamo is one of Europe's most consistent pop artists.
This collection of his songs, reflecting his gentle nature and combination of humour and simplicity, is an eloquent demonstration of his natural talent and an eminent justification of his star status.