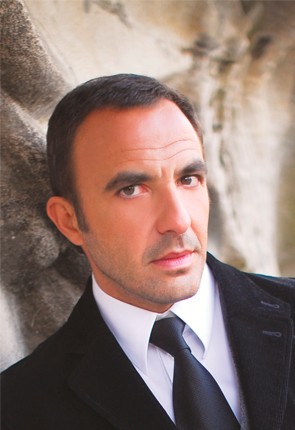 Honorary Patron
Nikos A. Aliagas was born in Paris on the 13 May 1969 to Greek parents, growing up bi-lingual. He studied modern French literature at the University of Sorbonne (Paris IV). In 1988 he began his media career with Radio France Internationale, moving to Radio Notre-Dame in 1992. During the period 1988 – 1992, he also edited "La revue franco-hellénique", a Greek cultural magazine, and presented a Greek language radio programme for an Armenian radio station.
Nikos, who speaks French, Greek, English, Spanish and Italian, joined Euronews in 1993 and presented "Prisma", spending the next six years as a core political reporter, with special focus on Greece and Cyprus. During this same period, 1993 – 1999, he also presented the news for Télé Monte-Carlo (TMC).
In 1998, Nikos moved full-time into television with a two-year stint on the Christine Bravo show on France 2 "Union Libre ", presenting a regular segment on Greek culture while doubling as editor. During this same period, he used his bi-lingual skills by presenting the news on Alter, a Greek language television station.
In 2001, Nikos joined TF1, the most viewed television channel in Europe, as host of Star Academy, which became the most popular music talent show in French television history. Nikos presented 800 live Star Academy shows over an eight-year period, attracting 14-million viewers at its peak.
Between 2002 and 2009 Nikos presented the innovative "Ça donne envie ", for cable news channel LCI (La Chaîne de l'Info). The format was unique for a news channel, not only because " Ça donne envie " was a culture show, but also because Nikos invited some of his guests to perform live in the studio.
It was in 2004 that Nikos had the outstanding honour of presenting the pre-show of the opening ceremony of the Athens Olympics to the global television audience.
In January 2007, Nikos began hosting the on-going weekly TF1 magazine programme " 50 min inside ".
Over the last four years Nikos has hosted the prestigious NRJ music awards in Cannes. In the 2013 show he challenged the Korean pop sensation Psy to try the Greek dance, sirtaki. Psy's sirtaki was seen live by an audience of over eight million viewers.
Nikos is the popular choice for presenting major entertainment shows for TF1. These include " Toute la musique qu'on aime ", " Génération Tubes ", " La Chanson de l'Année ", " Les 500 Choristes ", etc…
In addition, for the last two years and with great success, Nikos has hosted " The Voice ", a television talent show for singers.
In October 2011, Nikos joined the satirical TV show "Après le 20h c'est Canteloup ", co-presenting with popular comic and impersonator Nicolas Canteloup. This daily show regularly achieves the highest TV viewing figures on French television, with an audience approximating nine million viewers every evening.
In the last few years Nikos has rediscovered his passion for radio. Between 2009 and 2011 he presented a morning show, " 6/9 ", for the NRJ music radio station and in 2011 began working for Europe 1, a popular radio station in France.
Between his radio and television shows, Nikos has interviewed the majority of today's leading entertainment personalities, film and music icons, writers, directors and politicians. Angelina Jolie, Meryl Streep, Sting, Dustin Hoffman, Paulo Coelho, Pedro Almodóvar, Brad Pitt, Robert Redford, Jean Reno, Carla Bruni and Nicole Kidman are among his most recent guests. In 2012 he interviewed Robert De Niro and John Travolta who both declared their love for Greece, following holidays in the Greek islands. In his career, Nikos has also interviewed many influential politicians such as Valéry Giscard d'Estaing, Konstantinos Stephanopoulos, Nicolas Sarkozy, Yasser Arafat, Madeleine Albright. Melina Merkouri gave one of her last interviews to him for the Euronews Channel.
Nikos has also expanded into acting, appearing in 2004, in Costas Natsis's movie " Le Rêve d'Icare ", in which he played the role of a priest, alongside Anna Mouglalis. He also had smaller roles in the French productions Turf and Stars 80.
In 2003, with emphasis on his Greek roots, Nikos's first book, " Aller voir chez les Grecs ", was published by Editions Jean-Claude Lattes. In 2007, Editions Electra published his second book, " Οι σημειώσεις ενός Εμιγκρέ " (An immigrant's notes). In May 2011, his first book of photographs was published by Editions Acanthe. This passion for photography was rewarded by a personal exhibition at the well-known Harcourt studio in Paris. Some of the biggest showbiz stars have posed for Nikos, among them Dustin Hoffman, Claudia Cardinale, Jane Fonda , Robert Redford , Shakira and Monica Belucci.
Nikos was born with a passion for music, and made his first move into the music industry in 2007 with the release of his first album, "Rendez-vous ", a collection of jazz and blues duets. He has also participated in albums by well-known singers and composers, including Nana Mouskouri and Lavrentis Machairitsas. Besides this, he participated in and organised concerts at Olympia theatre combining music with his charitable work raising funds for sick children. He has also hosted and sung at " Tout Le Monde Chante ", a fundraising charity for fighting cancer.
Nikos is associated with several charities, work he finds most rewarding. He is a  patron of the cystic fibrosis charity " Association Grégory Lemarchal " and of  the charitable foundation "Wheeling Around the World ", which gives people with disabilities the access and knowledge necessary to facilitate travel. Nikos is also an ambassador of various campaigns promoting the awareness and prevention of HIV.
In the last 3 years he developed an influential profile in the social media and more specifically on Twitter, where he is well-known for uploading photos of the stars he interviews. He also tweets scenic shots of the Eiffel Tower and  Greece. His photographs are enjoyed by his hundreds of thousands of his followers. Klout, the social media analytic website, ranks the most influential reporter in the French media.
Nikos's pride in his Greek roots has been demonstrated throughout his twenty years in the media by promoting the Greek culture to the French-speaking world.

In 2004, in recognition of his significant contribution in this field, he was awarded the Order of Xenios Zeus by the Greek Ministry of Culture and Tourism.

In May 2007, to honour his contribution to French broadcasting, Nikos was made a Chevalier de l'Ordre des Arts et des Lettres, one of the most distinguished awards in France.