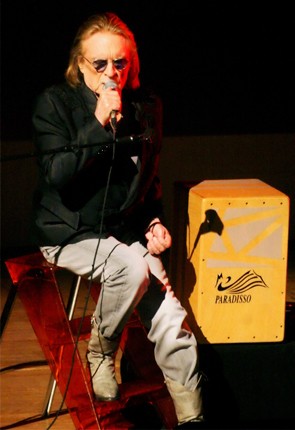 Honorary Patron
1945-2020
"Aimer ce que nous sommes" (AZ/UNIVERSAL)
An album recorded between Paris, Sevilla and London, with Christophe Van Huffel. A masterpiece which begins with the participation of Isabelle Adjani ("Wo wo wo wo"), is set ablaze with a gipsy choir ("It must be a sign"), knocks us out with a magnetizing hit ("Tonight Tonight"), climbs to amazing heights ("Parle lui de moi") and ends with the voice of Daniel Filipacchi ("Les voyageurs du train…"). An album whose recording included epic sessions with the legendary drummer Carmine Appice, Erik Truffaz and Jac Berrocal, Mark Cunningham and Murcof, Patrick Muller and Pamelia Kurstin, Florian Zeller, Marie-Pierre Chevalier, Marie Moore, and the great Emir Deodato at the head of the strings… And to orchestrate all of this, at the top of the pyramid Christophe, "the singer", the real conductor.
Daniel Bevilacqua, aka Christophe, was born October 13, 1945. As a kid, he listened to the blues, Robert Johnson and John Lee Hooker. As a teen, he was rushed by rock n'roll, Elvis and Little Richard. When he was 15 he formed his first band, Danny Baby et les Hooligans. He recorded his first 45 at seventeen, "Reviens Sophie" But it's the pop 'yeye' wave that absorbs him. He is number one on the charts in 1965 with his bluesy single "Aline" which he signs under the name Christophe.
He poses with the rest of the yeye generation on the poster of "Salut les copains" alongside Johnny Hallyday, Sylvie Vartan, Chantal Goya, Francoise Hardy, Sheila, Michele Torr, Claude Francois, Jacques Dutronc and Michel Polnareff. The problem is that Christophe is not a pop musician. He experiences with new styles and instruments, and continues to create hit singles throughout the 70, placing him at the same level as Bowie at that time. Then, finally he released his first album in 1973, "Les paradis perdus". By the end of the decade, after three other albums ("Les mots bleus" in '74, "Samurai" in '76 and "Le beau bizarre" in 78), Christophe has no more competition. When he turns 30 he already is all set for an eternal career as composer, singer and songwriter ("Les mots bleus", "Senorita", "Daisy", "La dolce vita"…) and is classified a French national treasure.