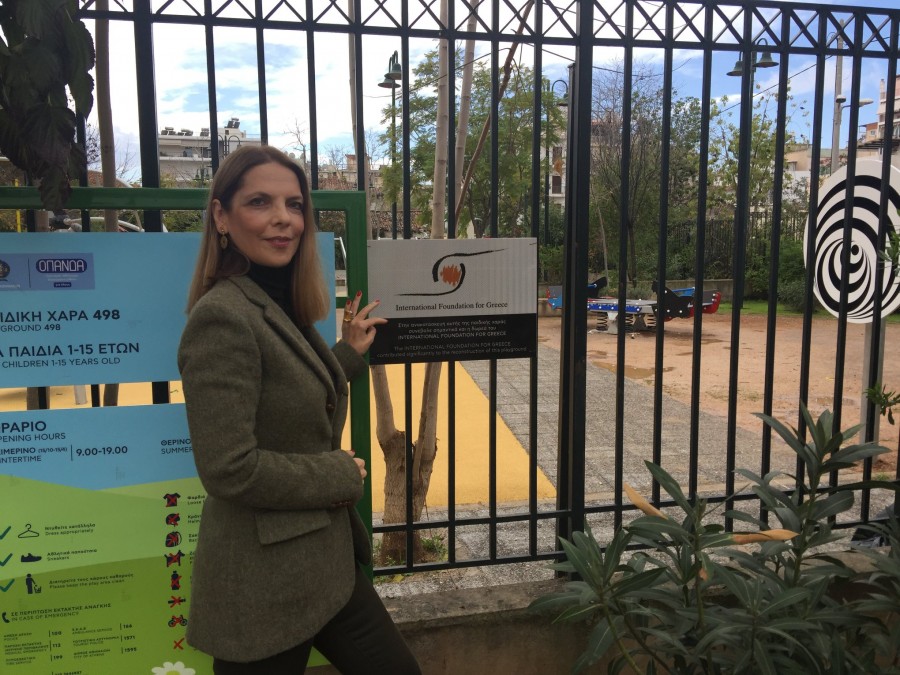 On Sunday, November 25, 2018, at Sepolia, right in the core of the city of Athens, a brand new and modern playground was inaugurated and opened to the public by the Culture, Sports & Youth Organization of the City of Athens (OPANDA) in cooperation with the International Foundation for Greece (IFG). This special contribution upgrades the area surrounding the two schools on Evtokiou and Vellerefontou streets, with a 'prototype' play park while providing an eco-friendly and safe environment for children.
Specifically designed and constructed according to the European Standards, as far as the chosen materials and equipment are concerned, the new playground is accessible to children with disabilities as well.
The realization of the reconstruction of the playground was benefited by the proceeds of the concert "Patrides pou eginan fotia (Homelands that burst into flames)", organized by the IFG in collaboration with the OPANDA, that took place at the Athens Concert Hall, in March 2016. Such renowned artists as Lavrentis Machairitsas, Eleftheria Arvanitaki, Yiannis Kotsiras, Panos Mouzourakis, George Dalaras, George Perris, Marios Frangoulis participated, along with the Greek Music Workshop Ensemble of the Municipality of Athens (under the conduction of Christos Halkias), the NGRadio Band, Isidoros Pateros, Alexandros Iakovou and George Michail, under the direction and presentation of Dimitris Lignadis.
The cause was, furthermore, supported by the new song "Patrides pou eginan fotia (Homelands that burst into flames)" written by Lavrentis Machairitsas (music) and Manos Eleftheriou (lyrics), specially released for the IFG and premiered at the concert.
Maria – Clara Machairitsas created the video clip of the song while STMTS / Stamatis Mitsios designed the concert's poster.
Present at the inauguration were the Mayor of the City of Athens, Mr George Kaminis, the President of the OPANDA, Mr Kostis Bitzanis, the President of the IFG, Mrs Aspasia Leventis, and the Goodwill Ambassador of the IFG, composer and singer, Mr Lavrentis Machairitsas who, along with Mrs Lilly Eleftheriou (sister of the late Manos Eleftheriou), represented all the artists that contributed to the realization of this great cause.
At the opening celebration, happenings by stilt walkers and street artists were enjoyed, under the melodic sounds of the City of Athens Philharmonic Orchestra, while the large attendance by local residents and children instantly gave life to this new play area proving that it would be warmly embraced by everyone.
A small but important project may, sometimes, provide the greatest joy, living up to its title.