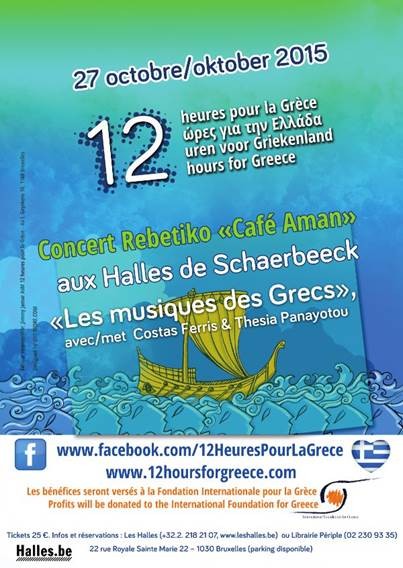 For the very first time, Brussels will host on 27 October at 20.00 the famous "Café Aman", the concert by Kostas Ferris, based on the music of his film "Rebetiko", which obtained the Silver Bear at the Belin Film Festival in 1983. The performance, which has encountered considerable success in Greece for years, will feature 12 musicians and artists on stage, among whom Kostas Ferris himself and music director Thesia Panayotou. This exceptional charity concert, which is dedicated to the "Music of the Greeks", is organized by the non-profit association "12 Hours for Greece". All profits will go to the International Foundation for Greece (IFG), in the framework of "Fuel for Schools", a project aimed at purchasing fuel for heating schools in Northern Greece during the winter of 2015-2016. Tickets, at the price of 25 €, can be purchased shortly at the:
Halles de Schaerbeek in Brussels (tel : +32.2. 218 21 07,www.leshalles.be) or at
Periplous, the Greek bookstore in Brussels (+32.2.230 93 35).