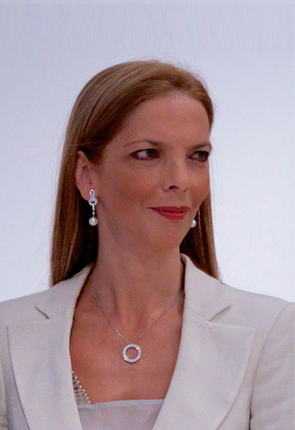 Founder & President
The International Foundation for Greece has been founded with the aim of developing an international network of support for groups of people enduring serious problems during the difficult period of the economic crisis in Greece.
Our foundation is initially aiming to finance and reform hospital units, to buy medical equipment, acquire ambulances and other high speed vehicles and to provide heating for schools and charitable organizations throughout Greece.
It is also developing a means for whoever wants to contribute, so that help can reach its target quickly and effectively.
At the Foundation's side are people from the arts, letters, science and financial world who promote the work of the Foundation on an international level and whose actions remind the world that Greece was and is the cradle of civilization and the benchmark of every modern democratic society.
The Foundation's awards, "IFG AWARDS', were created during the difficult times that Greece is facing to honour Greeks who live beyond the Greek borders, who not only have not forgotten their Greek roots, but who also showcase and bring to life the Greek ideal within their work.
They will be awarded every three years during a special event at the Acropolis Museum sending the world a simple message: modern Greece is a creative country and one that battles and believes in herself, in her strengths and looks positively towards the future.
Aspasia Leventis
President
Aspasia Leventis was born on August 16, 1963 in Athens Greece. Her origin on her mother's side is from the patrician families Da Ponte and Premarin of Venice and on her father's side from Greeks in Ayvalik of Asia Minor. She graduated from Arsakeion College.
She holds a university degree in Greek and French Language and Literature of the National and Kapodistrian University of Athens, Greece. She has studied classical guitar and classical dance at the Royal Academy of Dance and speaks Greek, French, English, Italian, Spanish and Russian.
She has been President of the Executive Secretariat of the International Foundation of the Cultural Olympiad, Founder and President of the Association "Friends of the National Museum of Contemporary Art", Member of the Board of Directors of the National Museum of Contemporary Art (2000-2004) & Former vice President of Opheltes – The Friend of NEMEA.
She is a member of the National Committee of UNESCO Hellas.

She was Founder and President of the Hellenic Academy of Modern Art.
Founder and President of The Breast Cancer Action Fund
Founder and President of The International Foundation for Greece
She was married to late George Leventis, businessman, and they have two sons, Vasileios & Evagoras.