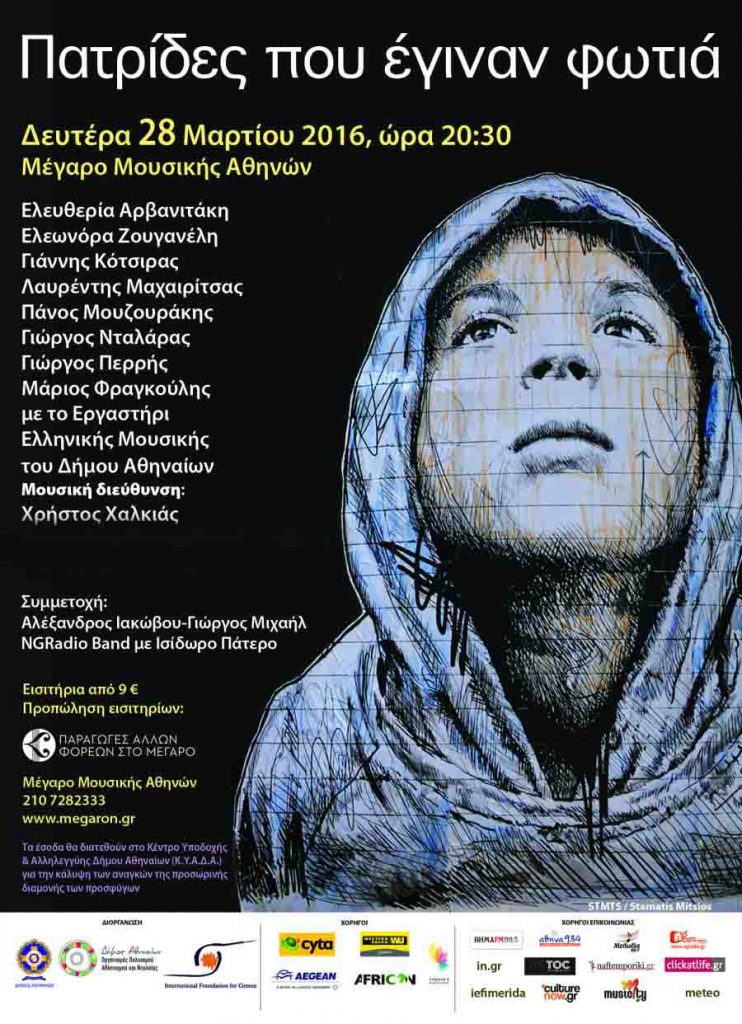 The International Foundation for Greece and Culture, Sports and Youth Organization of the City of Athens are proud to present a unique concert with the participation of renowned artists on Monday, March 28th in Athens at the Athens Concert Hall for the support of refugees who arrive daily in Greece.
The scope of this event is to strengthen solidarity among nations and to cover basic needs of refugees during their temporary stay in our country.We are happy to have with us:
Eleftheria Arvanitaki, Eleonora Zouganeli, Yiannis Kotsiras, Lavrentis Macharitsas, Panos Mouzourakis, George Dalaras, George Perris, Mario Frangoulis performing with the Greek Music Workshop Ensemble of the Municipality of Athens. NGRadio Band with Isidoros Pateros and Alexandros Iakovou-George Michail are also performing.
Hellenic Athens Academy member, lyricist and poet Mr Manos Eleftheriou and the internationally acclaimed composer, song writer and singer Mr Lavrentis Machairitsas have created a beautiful song which will be officially released on the day of the concert. All participating artists volunteered to sing in the making of this song.
During the concert messages from world renowned personalities, Patrons and Good Will Ambassadors of the International Foundation for Greece such as Andrea Bocelli, Luz Casal and many more, will be broadcast.
Proceeds will be used to cover basic needs of the refugees during their temporary stay in our country.
Tickets: € 9 (Student) – 12 – 25 – 35 – 65 (VIP)
The Athens Concert Hall
Tel +30 210 7282333, www.megaron.gr

Special thanks to our sponsors: Western Union-Paylink, CYTA, Aegean Airlines, Africon, Studio7.